Cancer is the second leading cause of death in Europe1, accounting for over 1.9 million deaths annually2, and places a major and growing burden on European healthcare systems with over 4 million2 new cases every year.
At Accord we are driven to increase patient access to essential cancer therapies across Europe. By the means of our extensive portfolio comprising over 30 chemotherapeutic agents, Accord aims to free up resources from national healthcare systems to support and manage the burden of oncology care.
Built upon our generic foundations, looking to set ourselves apart, Accord is committed to continue investing in research and development to deliver a differentiated range of medicines that can improve disease management and treatment outcomes to address patients and healthcare professionals unmet needs.
Our vast Oncology pipeline focusses on prevalent tumour types including breast and prostate cancer in addition to haematological and cancer supportive care therapies. Over 20 treatments are currently in development and scheduled for launch over the next 5 years.
OECD iLibrary - Health at a Glance: Europe 2020: State of Health in the EU Cycle: Main causes of mortality. Accessed October 2021.
GCO International Agency of Cancer Research – Cancer Today (2020). Accessed October 2021.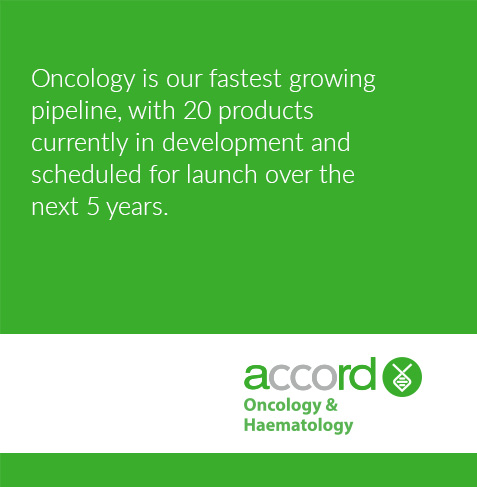 Oncology &
Haematology
A leading player of generics, biosimilars and value-added oncology and haematology medicines
Accord has over 30 oncology and oncology-related treatments making it one of the largest suppliers of chemotherapy products in Europe.
Oncology and haematology are specialties of internal medicine which are often practised together and involve the diagnosis, treatment, and prevention of cancers and blood diseases using a multidisciplinary approach. Despite major advances in the treatment of cancer and blood disorders in recent years, there remain significant areas of unmet need with opportunities to improve efficacy and safety profiles and reduce side effects, as well as providing affordable treatment options.
At Accord, our goal is to improve patient access by providing affordable medicines that aim to make a real difference to patients' lives. With a focus in speciality pharmaceuticals, we provide affordable alternatives in some of the most complex areas of medicine. By applying our innovative ways of thinking, we are bringing new therapies to market that may result in real world improvements for oncology and haematology patients.
Accord provides access to 95% of the European population with over 30 oncology therapies across Europe, allowing us to meet the treatment needs of patients with various types of cancer every year.
Building on our established heritage in oncology generics, we are introducing new medicines that bring added value and offer additional treatment options for patients.
With our oncology products, we undertake a preventative and protective approach to occupational exposure. Cytotoxic containing products undergo a rigorous cleaning protocol to minimise possible external residue before being wrapped in our PharmaShield® technology.
Click here to download an information fact sheet on Pharmashield®
Our products are approved in different countries for specific uses and the information we provide is governed by local regulations. Please visit your local Accord site to find out more about our products in your country of residence. Always ask a healthcare professional for advice about medicines.