There are over 80 known autoimmune diseases. These are chronic conditions that occur when a patients' own immune system attacks an otherwise healthy part of their body, and almost any body part can be affected. Being diagnosed with an autoimmune disease can be challenging for patients, as often the cause of disease is unknown and there may be no cure available.
Treatment of autoimmune diseases differ depending on the severity of symptoms, which often include a combined treatment approach with lifestyle modifications alongside pharmacological and non-pharmacological therapies to help minimise the progression of the condition.
At Accord, we are innovating in the area of autoimmune disease and focusing on delivering medicines that may improve the patient experience and outcomes. We are continually looking to add to our existing portfolio of autoimmune medicines, with the aim of improving patient access to affordable medicines. We also continue to invest in research and development to deliver a differentiated product range, aligned to patient and healthcare professional needs.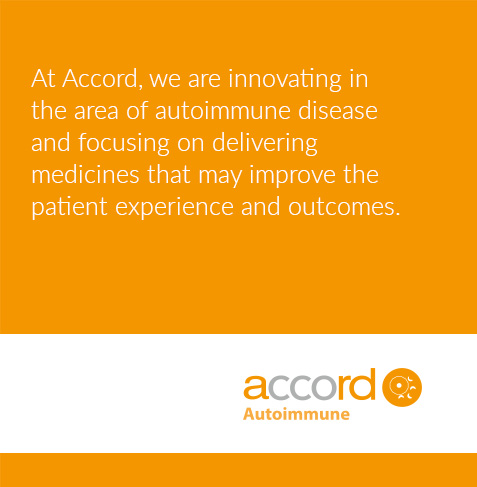 Autoimmune
We utilise our liposomal and biosimilar technology to bring more novel products to patients
Rich pipeline of > 15 products due within Bone Health, Endocrinology and GI
For patients with chronic conditions such as autoimmune diseases, self-management is often one of the most important aspects when managing the disease. Accord is focused on putting self-management at the forefront for patients with autoimmune diseases, helping them to achieve autonomy and to live their lives to the fullest they can. We do this via innovative medication, self-administration devices and oral products to simplify how patients use, administer and adhere to their treatment plans.
Access to a range of suitable medicines is critical for autoimmune patients to actively manage their conditions. Accord is passionate about understanding the needs of these patients, and about enhancing their access to high-quality affordable medicines. We do this through our scale of manufacturing and robust relationships across the EMENA area.
Accord is constantly working to view diseases in a holistic sense to deliver a fuller, more advanced offering of medicines for patients and healthcare professionals, demonstrating our ongoing commitment to the area of autoimmune diseases.