Accord Healthcare
Accord Healthcare is a young and dynamic pharmaceutical company, involved in the development, manufacturing and distribution of pharmaceutical products to over 85 markets around the world.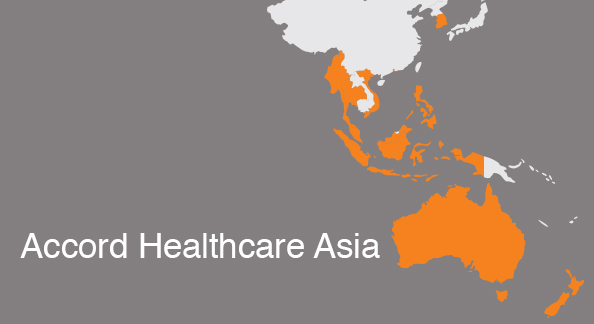 01
TRULY MULTINATIONAL
Accord Healthcare is the international arm of Intas Pharmaceuticals Ltd., with commercial operations in more than 85 countries globally. The first Accord commercial operations in Europe were recorded in 2008 in the United Kingdom and now extends to 11 countries in Asia Pacific with a portfolio comprising 310 registered molecules in Asia Pacific.
02
A COMPLETE APPROACH
Accord's vision is to be involved in all aspects of bringing pharmaceuticals to patients. Our activities today encompass the entire pharmaceutical value chain and so create a truly integrated offering.
GROWTH'S IN OUR NATURE
With an extensive presence in all regions of the world, Accord Healthcare has very rapidly become one of the fastest growing generic pharmaceutical companies.
Our robust product portfolio in growth-oriented therapies allows us to compete with some of the biggest portfolios in the industry, as well as helping to extend our presence into new markets.
Accord's operations began with a strategic vision to create a global brand, supported by a commercial infrastructure that enables us to bring our high quality yet affordable products to patients around the world. We commit ourselves to challenging the unmet medical, societal and patient needs of the day.
2022-10-01
Accord Healthcare's Executive Vice President Paul Tredwell sat down with Mark Nicholls to discuss how important it is that the pharmaceutical industry listens to patients to best tailor innovation to their needs.  Paul outlines Accord's expertise and ongoing commitment to oncology and some of the exciting plans underway in the UK, always driven by the Accord's ambition to 'make it better'. See his interview in the latest edition of Innovations in Oncology issued in today's The Guardian newspaper.  https://www.healthawareness.</wbr>co.uk/oncology/the-</wbr>pharmaceutical-industry-has-a-</wbr>pivotal-role-in-cancer-care/?</wbr>utm_source=ACCORD-distro&amp;utm_</wbr>medium=client     #oncology #innovation #innovationsinoncology2022 #patients #pharmaceuticals #makeitbetter
2022-10-01
Accord Healthcare has been nominated as a finalist in seven categories in the Global Generics & Biosimilars 2022 Awards. Paul Tredwell, EVP EMENA says: "To be finalists in several categories at such a highly respected awards event is a testament to our people whose loyalty, drive and dedication to the healthcare industry go above and beyond our purpose.  "We look forward to the awards evening in November and congratulate all the other finalists." Accord Healthcare are finalists in the following categories: Company of the Year Company of the Year, EMEA Region Biosimilar Initiative of the Year Business Development of the Year Value Added Medicine Initiative of the Year Corporate Social Responsibility (CSR) Initiative of the Year  Regulatory Achievement of the Year