Critical care forms the first step in the treatment journey for patients with life-threatening conditions who have the potential to recover. At Accord Healthcare, we are working to support critical care healthcare professionals on the frontline who provide life-sustaining care within high pressured environments. We are developing ready-to-administer emergency medicines that focus on convenience, safety and value; supporting health care professionals to deliver the right medicine, in the right dose, at the right time to those that need it.
Building on our existing portfolio of trusted hospital generic medicines, our future focus is to deliver an innovative portfolio of critical care medicines that elevate the patient experience and improve outcomes in safe environments.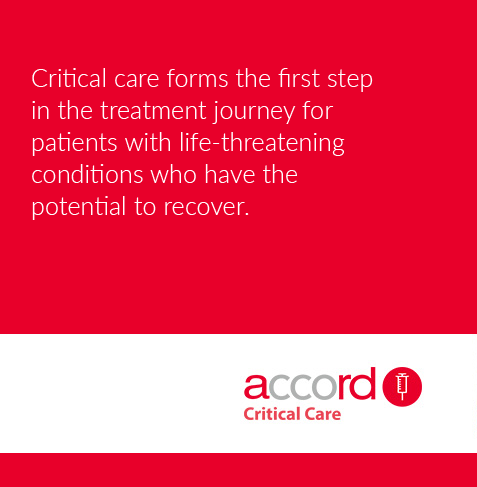 Critical
Care
There are many different situations that can result in someone requiring critical care.
Major surgery – this can either be a planned part of your recovery, or an emergency measure if there are complications
Serious accidents – such as a road accident, a severe head injury, a serious fall or severe burns
Serious short-term conditions – such as a heart attack or a stroke
Anaphylaxis or severe allergic reaction
Patients with life-threatening conditions need specialised hospital care to help them recover. Critical care involves an intensive input of resources to provide continuous high-quality care in fraught, time sensitive settings for patients in urgent need. These patients require immediate assessment and management by multidisciplinary teams.
Acknowledging the importance of critical care medicines within hospital settings, Accord is applying innovative thinking to deliver high-quality focused products which support accurate treatment under pressure. By doing this we will establish strong and reliable partnerships in hospital care, making sure more patients receive the treatments they need.
At Accord, we always challenge ourselves to continuously deliver treatments which support immediate decisions, treatment and stabilisation of the patient condition, reducing the burden on clinicians and making a real difference to patient safety.
We set ourselves apart by improving the treatment options for patients with our convenient and high-quality Speciality Brand Products which will include ready-to-administer emergency medicines. Our range of emergency medicines, currently in development, will be used across in-hospital and mobile critical care settings, including surgery, accident and emergency, intensive care units and ambulances.
Accord's pipeline of critical care products include a number of which will be in situations including cardiac complications, opioid overdose, severe pain relief, surgical procedures and life-threatening allergic reactions.
The time it takes to prepare medicines and the amount of medicines wasted due to short shelf lives after preparation are key issues hospitals face. At Accord, we are working to understand the complexity of the context in which critical care medicines are used and how this impacts their cost-effectiveness.