Accord Healthcare
Accord Healthcare is a young and dynamic pharmaceutical company, involved in the development, manufacturing and distribution of pharmaceutical products to over 85 markets around the world.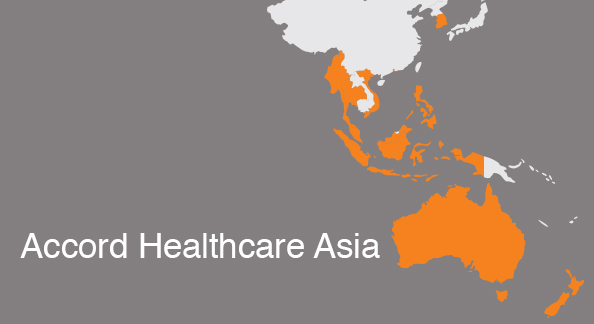 01
TRULY MULTINATIONAL
Accord Healthcare is the international arm of Intas Pharmaceuticals Ltd., with commercial operations in more than 85 countries globally. The first Accord commercial operations in Europe were recorded in 2008 in the United Kingdom and now extends to 11 countries in Asia Pacific with a portfolio comprising 310 registered molecules in Asia Pacific.
02
A COMPLETE APPROACH
Accord's vision is to be involved in all aspects of bringing pharmaceuticals to patients. Our activities today encompass the entire pharmaceutical value chain and so create a truly integrated offering.
GROWTH'S IN OUR NATURE
With an extensive presence in all regions of the world, Accord Healthcare has very rapidly become one of the fastest growing generic pharmaceutical companies.
Our robust product portfolio in growth-oriented therapies allows us to compete with some of the biggest portfolios in the industry, as well as helping to extend our presence into new markets.
Accord's operations began with a strategic vision to create a global brand, supported by a commercial infrastructure that enables us to bring our high quality yet affordable products to patients around the world. We commit ourselves to challenging the unmet medical, societal and patient needs of the day.
2022-07-01
Over the last six months, our commitment to support IHP our corporate charity partner to provide access to medicines across war torn and disaster struck countries has increased. As one of their main donors, here is a little sneak peek at what we have contributed to and IHP have delivered so far:
2022-07-01
It was a pleasure to welcome our corporate charity partner @IHP to our site at Fawdon recently. Representatives from International Health Partners highlighted the importance of our partnership, some of the positive case studies our donations have made an impact on and discussed how Accord's donations make a difference to war torn and disaster struck countries such as Ukraine, Sudan, and many others who rely on essential medicines being donated. In addition to our people hearing from IHP, representatives from the NGO were also shown around our impressive facilities at Fawdon to gain a better understanding of the manufacturing, packing and logistical elements of our pharmaceutical organisation. Thank you for visiting Fawdon!