The Central Nervous System (CNS) is made up of a complex system of neural networks in the brain and the spinal cord. When these areas are structurally or functionally compromised, neurological and psychiatric disorders can develop, many of which have no cure. However, medicines and treatments can often be used to alleviate specific symptoms, in the hope of enabling patients to regain functioning and improve quality of life.
Accord Healthcare is innovating in the area of CNS medicine, growing a product portfolio with novel molecules in development. Our initial focus is to improve the way psychiatric disorders are managed, ultimately leading to greater benefits for patients.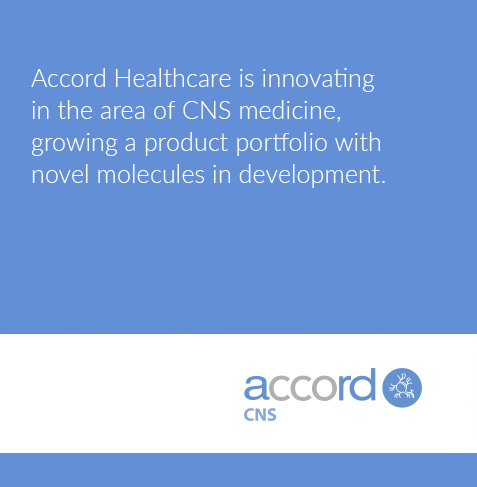 Central Nervous
System
Building a portfolio of Mental Health & Addiction therapies to fulfil unmet needs
Focusing on new and novel treatments
Despite control of core symptoms, many patients with CNS disorders continue to have significant areas of unmet needs. This is especially true for psychiatric disorders where symptoms are often complex and interrelated.
Accord is striving to meet the unmet needs of patients by actively building supporting therapies for psychiatric disorders which go beyond looking at symptoms in isolation. This is especially important for patients with multiple comorbidities.
There is no 'one fits all method' of symptom management as manifestations of CNS disorders vary greatly.
The research and development team at Accord is focusing on inventive and personalised approaches to CNS medicine, supporting healthcare providers to deliver more for patients.
"CNS diseases and, in particular, mental health disorders, are becoming recognised as the health challenge of the 21st century. Currently, at least 10% of the global population is affected by a mental health disorder, a figure that is set to increase year on year. Meanwhile, the rate of development of new CNS drugs has not increased for many years, despite unprecedented levels of investment."1
Adding value is at the core of what we do at Accord, this means actively identifying how our medicines can go above and beyond what is currently available. Within CNS medicine, our second fastest growing pipeline, we constantly innovate our approach to enhance the core characteristics of the medicines we deliver. By providing novel features sought after by patients we continue to align our research and development with what patients need the most.
Reference: National Epidemiologic Survey on Alcohol and Related Conditions (Conway et al., 2006).